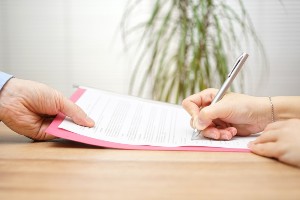 When you are terminated from your job, you might receive a severance agreement. These agreements are legal documents that outline the terms of your separation from the company. The severance agreement will likely include information about your final paycheck, benefits, and any other compensation you may be entitled to.
What is a Severance Agreement?
A severance agreement is a contract between an employer and an employee. In it, the employer agrees to provide the employee with certain benefits or compensation in exchange for the employee's agreement to not pursue legal action against the employer.
Severance agreements typically include a release of claims. This means that the employee agrees to waive any legal claims they may have against the employer. The specific terms vary depending on the situation. Often, it includes things like a severance package, continued health insurance, outplacement assistance, and more.
Severance agreements are generally used when an employer is terminating an employee, either voluntarily or involuntarily. In some cases, an employer might make an offer to an employee who is resigning from their position. Severance agreements can also be used in other situations. An example is when an employee is being laid off or is taking early retirement.
The main purpose is to protect the employer from potential legal action by the employee. By including a release of claims in the agreement, the employee is agreeing not to sue the employer for any legal claims they may have. This can be helpful to employers in avoiding costly litigation.
What Benefits Do You Receive from a Severance Agreement?
When an employee is terminated, they may be entitled to certain benefits or compensation. These rights occur under their employment contract, company policy, or state law. These documents can provide additional benefits or compensation beyond what the employee is already entitled to.
For example, an employer may agree to pay the employee's health insurance premiums for a certain period after their employment ends.
Severance agreements are typically negotiable, meaning that the employer and employee can negotiate the terms of the agreement. It is important to have an attorney review a severance agreement before signing it, as it can have a significant impact on an employee's rights.
It is important to review a severance agreement carefully before signing it. The agreement may include release of claims. This means you give up your right to sue the company for any wrongful termination or other legal claims you may have.
You should consider consulting with an attorney before signing any agreement. An attorney can help you understand the terms of the agreement and negotiate for better terms, if necessary.
If you were offered a severance agreement or are considering resigning from your job and are interested in negotiating a severance agreement, contact Borrelli & Associates, P.L.L.C. to schedule a free consultation.