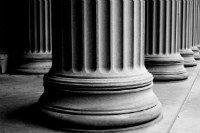 As previously reported on this website, in Brown v. Michael Della Vecchia & Son Inc. et al.,(Case No.: 1:17-CV-06094) on October 18, 2017, Lead Plaintiff Mr. Brown, on behalf of himself and those similarly situated, filed a class and collective action lawsuit in United States District Court – Eastern District of New York against Michael Della Vecchia & Son Inc., and Anthony Della Vecchia, individually, alleging willful violations of the Fair Labor Standards Act ("FLSA") and the New York Labor Law ("NYLL") including, but not limited to the failure of Defendants to pay overtime wages. The factual allegations of the case are referenced in our October 2017 blog post and are summarized as follows.
• Defendants employed Plaintiff to work as a laborer from September 8, 2015 through October 6, 2017;
• Throughout his employment, Plaintiff's duties mainly consisted of demolishing, constructing, renovating, and painting commercial office buildings and cleaning job sites;
• Defendants required Plaintiff to work, and Plaintiff did work a total of fifty hours per week;
• Defendants paid Plaintiff an hourly rate of less than $16.00 for up to the first forty hours that he worked per week and nothing more for any additional hours worked;
• On each occasion when Defendants paid Plaintiff, Defendants failed to provide him with wage statements that accurately listed his hours worked for that workweek;
• Defendants failed to provide Plaintiff with any wage notice at the time of his hire.
When a non-exempt employee works over 40 hours a work-week, the employer is required by law to pay the employee at 1.5x his/her hourly rate of pay for each hour worked in excess of forty. The additional pay is called the overtime rate. In this case, Defendants paid Plaintiff less than $16.00 per hour for up to the first forty hours he worked per week and nothing additional for the ten overtime hours worked per week, in clear violation of the NYLL and the FLSA.
Certification of Collective Action
In this case, pursuant to the request of the Plaintiff, the judge reviewed claims that Plaintiff brought forward alleging that there are additional workers in the same "class" (who have performed or are performing the same or similar duties) whose rights were or are being violated. After reviewing the facts of this case, Magistrate Judge James Orenstein granted "conditional certification" allowing the case to proceed as a collective class action enabling any other workers who were not paid properly to join the lawsuit and seek redress for the Defendants' failure to pay them in accordance with the law.
If you or a person you know worked for the Defendants named in the lawsuit during the time period of October 18, 2011– present or has information that may be relevant to this case, contact Borrelli & Associates, P.L.L.C. as soon as possible through our website, www.employmentlawyernewyork.com, or by phone: (516) 248-5550, (516) ABOGADO, and (212) 679-5000.